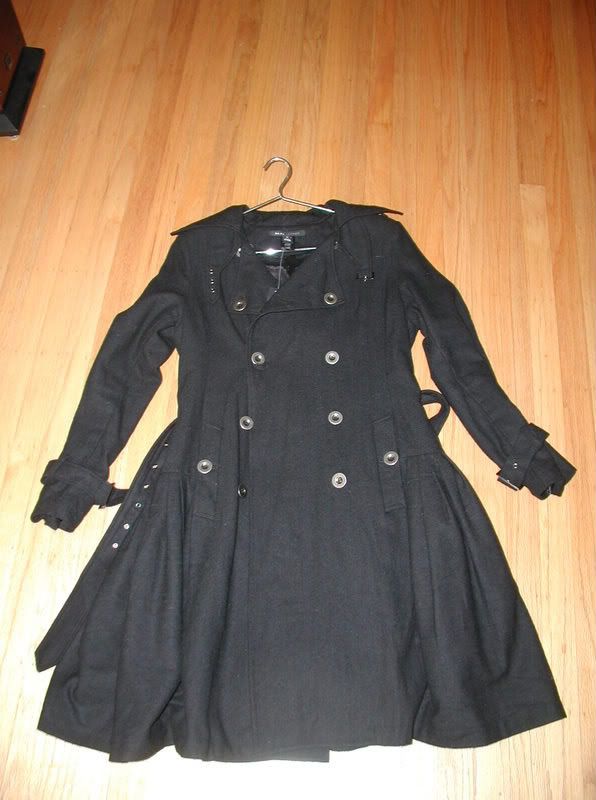 Marc Jacobs coat purchased new at 80% off the original retail price.
Previous posts in this series:
Eco Fashion: What is it?
Eco Fashion: Do it yourself – Organic Fabric
Eco Fashion: Do it Yourself – Yarn
Eco Fashion: The Cost of Eco Fashion
For me, shopping for used clothes is the most enjoyable type of shopping there is (and I'm not a huge fan of shopping in general despite my love of clothes). Though the clothes may or may not be made from organic fabrics, buying used is still eco friendly for obvious reasons.  (Even though the coat in the photo above was purchased new at a consignment store, most of what I buy is preloved.)
Consignment is one of the four ways I shop for used gear.  Ill go into more in a future post.
A consignment store is a second hand store where you can buy used (and sometimes new) items such as clothes and accessories, furniture, housewares and much more.  You can either purchase it outright or bring similar items in to sell or trade depending on the store's policy. Some shops will either buy your items when you bring them in and others will put the items up for sale to see if they will move in a set amount of time.  I have been shopping and selling at consignment stores for years and I have learned a lot along the way to make it easier on myself and my pocketbook.
In terms of shopping, I never go to a consignment store expecting to find a specific item because I know I wont find it.  I usually have a few things in mind that I'm always on the hunt for however.  In my case its jeans, handbags, shoes, coats and jackets – mostly large ticket items. Anything else I may come across that I'm absolutely drawn to would just be icing on the cake.
Part of knowing if I'm getting a good deal or if an item is overpriced is knowing the brand, the quality of the item, if it will still hold up to multiple wearings and washings and so on.  Since consignment stores tend to be a bit pricier than thrift, I have to really know what I'm getting into before making a purchase.
Since you cannot return items to consignment stores aside from trying to resell it, make sure the item you purchase is what you really need or at least want.